[Announcement] Realme 8 Pro updates to Android 12 stable with Realme UI 3.0 skin
Announcement – Realme officially announced the stable Android 12 update is under testing for public users and the version is planned to be released by late June 2022.
According to the current testing situation, the realme UI 3.0 stable release version of realme 7 Pro & realme 8 Pro is still under testing phase. In order to provide you all with a better product experience, the version is planned to be released by late June. Thank you for your patience, we shall keep you posted with further updates soon.
Official – Today, Realme to announce Realme 8 Pro is now getting Realme UI 3.0 based on Android 12, official roll-out has begun. The roll-out is released in batches and will reach you soon, kindly wait for it. Also to receive this update, please make sure your device is updated to the required version RMX3081_11_C.09 / RMX3081_11_C.10 / RMX3081_11_C.11 / RMX3081_11_C.12 / RMX3081_11_C.13.
Updated Apr 3rd – Realme is expanding the Realme UI 3.0 skin update for Realme 8 Pro. Now the update hits the Italian market on build number RMX3081_11_C.13 same as global.
Image Shared By – Davide Balo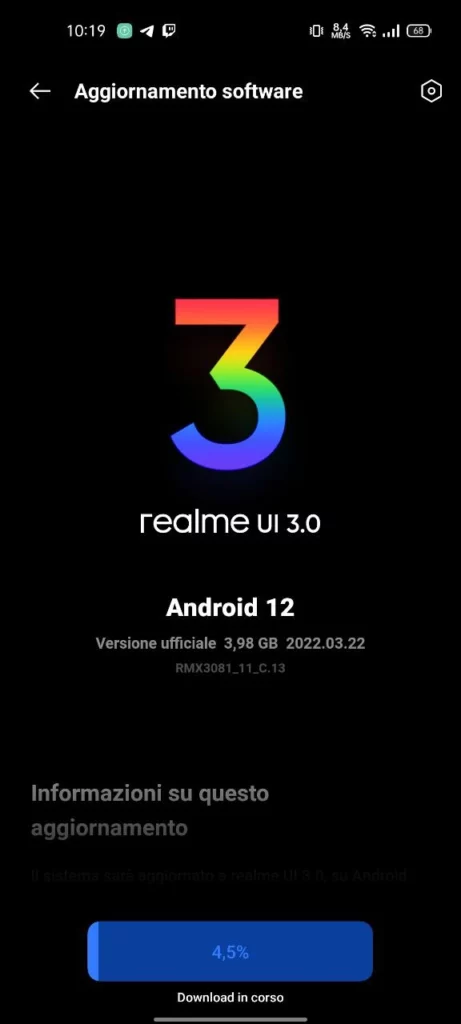 Original Story – March 22nd
Arrived on the Indian market last year, Realme 8 Pro is an interesting smartphone from Realme that mounts the handsome Snapdragon 720G. The mid-range device, born with Android 11 and Realme UI 2.0, is however ready to update to the latest version of the Android operating system.
Realme has just started the distribution of the expected update to Android 12 stable update with Realme UI 3.0 for its Realme 8 Pro, one of the devices that has contributed significantly to the growth of the brand in India. But Realme hasn't announced it to the community. The screenshot below shows that the company has started rolling out the stable update of Realme UI 3 for the Realme 8 Pro.
Thanks for the Screenshot By – Antimo Pedata
The major update refers to the build RMX3081_11_C.13 which has a weight of 3.98GB. The changelog is very rich and you can find it in full at the bottom of this article. Among the most important innovations, we find new customizations for the user interface, improvements to energy efficiency, new and more precise options to manage privacy and security, news for image editing, and new options for the Camera app.
Changelog:
About this update
Your system will upgrade to Realme UI 3.0 and Android 12. The infinite design offers a personalized, efficient, and seamless experience.
New design

The all-new design, which emphasizes a sense of space, deliver a simple, clean, and comfortable visual and interactive experience.
Revamps the page layout based on the principle of reducing visual noise and spacing out elements, and prioritizes information with different colors to make key information stand out."
Redesigns icons using new materials to give more depth and a greater sense of space and texture to the icons.
Optimizes Quantum Animation Engine: Quantum Animation Engine 3.0 implements the concept of mass to make animations more lifelike, and optimizes more than 300 animations to bring a more natural user experience."
More creative Always-On Display: Adds realmeow and Portrait silhouette to let you freely express yourself.

Convenience & efficiency

FlexDrop is renamed Flexible Windows and is optimized:
Optimizes the method of switching floating windows between different sizes.
You can now drag a file from My Files or a photo from the Photos app to a floating window.

Performance

Adds Quick launch, a feature that detects the apps you use frequently and pre-loads them so you can open them quickly.
Adds a chart to display your battery usage.
Improves the responsiveness of turning on or off Wi-Fi, Bluetooth, Airplane mode, and NFC.

Camera

You can now decide which camera modes are displayed on the menu bar and in what order they are displayed.
You can now drag the zoom slider to zoom in or out smoothly when shooting a video using the rear camera.

System

Optimizes the auto brightness algorithm to adapt screen brightness to more scenes for a comfortable screen reading experience

Accessibility

Optimizes accessibility:
Adds visuals to text instructions for an intuitive understanding of accessibility functions.
Optimizes categorization of functions by grouping them into vision, hearing, interactive actions, and general.
TalkBack supports more system apps including Photos, Phone, Mail, and Calendar.
"If you like this article follow us on Google News, Facebook, Telegram, and Twitter. We will keep bringing you such articles."